Alyssa Jayne Milano was born on 19th December 1972 in Brooklyn, New York and grew up in Staten Island, New York. She is an American actress, activist, producer, and former singer. She is best known for her roles in Who's the Boss?, Melrose Place, Charmed, My Name is Earl, Mistresses and Wet Hot American Summer: 10 Years Later.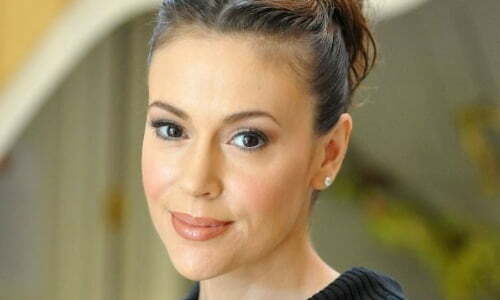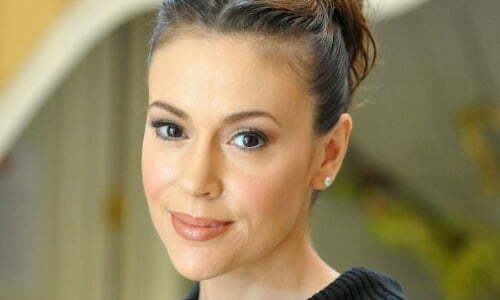 Dating Profile:
Milano became engaged to actor Scott Wolf In 1993. They broke off their engagement the following year. On 1st January 1999, Milano married singer Cinjun Tate. They divorced in early 2000.
In December 2008, after one year of dating, Milano became engaged to Creative Artists Agency agent David Bugliari. They married on August 15, 2009, at Bugliari's family home in New Jersey. The couple has a son and a daughter.
Religion Information:
Alyssa Milano was raised a Roman Catholic. It's difficult to tell if Milano is a still a devout Catholic in adulthood, but she certainly values faith as she said:
"For me, there is no hope without faith. Faith is a higher good. Faith in our divinity."
And when she was excited about her pregnancy, she tweeted:
"I love feeling my baby move in my belly. I kind of feel like it's proof that there is a God. Beautiful!"
Political Views:
Milano is a liberal Democrat. Milano has directly donated $4,350 to Obama. On Twitter, Milano defended Obama's controversial decision to not release photos of a dead Osama bin Laden. She also appeared in a widely-circulated, celebrity-stuffed video in which she and her cohorts "pledged" undying allegiance to the new president.
Displaying the ability to think for herself, Milano was actually a bit critical of the president during a 2010 interview. When asked if she had one question to ask the president, what would it be, she answered:
"What do you think about LeBron's move and your obsession with it? What does it say about us as a society?"
She also pleaded with Obama to:
"Be the guy I elected into office."
Other than that, Milano supports all the traditional liberal institutions such as gay marriage and animal rights. Of gay marriage, she said it was "inhumane" that gay couples were not allowed to marry and added:
"It's not really a political issue, it's a human issue."
Interesting Facts:
Milano has dyslexia. She explained, in a 2004 interview, how she deals with the disorder.
She did her schooling at the Buckley School, California, but never attended any college due to an early inclination towards acting.
Milano is a vegetarian. She has been a longtime supporter of PETA. Appearing in an ad wearing a vegetable dress, Milano encouraged people to go vegetarian–for the animals.
She's a UN Goodwill Ambassador whose main focus is helping to alleviate the suffering from Tropical and third-world diseases.
She is a proud fan of a basketball team called Los Angeles Dodgers, she also has an elegant collection of LA Dodgers apparel clothing and a clothing line for female sports fans called Touch.
She has 7 tattoos.
She's a big fan of the The Beatles, and loves to hear "Blackbird" and "I'm Ringo."
---
Sources:
https://en.wikipedia.org/wiki/Alyssa_Milano
http://www.imdb.com/name/nm0000192/bio?ref_=nm_ov_bio_sm
https://hollowverse.com/alyssa-milano/