Amy Landecker, 47, is an American film, stage, and television actress who is known for her supporting roles in films 'Dan in Real Life' in 2007, 'A Serious Man' in 2009, and 'All Is Bright' in 2013. In 2014, Landecker starred as Sarah Pfefferman in the comedy-drama 'Transparent' which was critically acclaimed. Amy started acting in grade school and was a part of the theater department, but she had doubts about her further acting career and felt  like she was not 'particularly attractive or marketable.'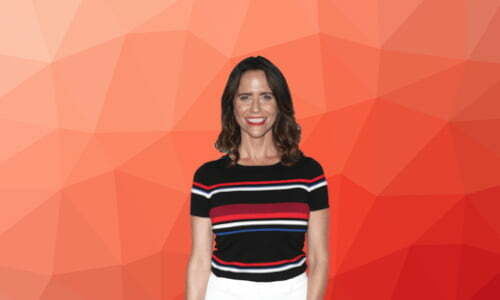 Until age 38 the actress was focused on stage work and then she moved to Los Angeles from Chicago to pursue her acting career. Amy appeared on TV shows like 'The Paul Reiser Show' playing Paul Reiser's wife and guest starred on 'Curb Your Enthusiasm. Amy's television projects also include 'Clear History' and 'Revenge.' In 2015 Amy was nominated for Outstanding Performance by an Ensemble in a Comedy Series for her work in 'Transparent.'
Landecker has appeared in numerous films, including her debut movie 'Temporary Girl' in 1998, 'All Is Bright' and 'Enough Said' in 2013, 'Project Almanac' and 'The Meddler' in 2015, 'Doctor Strange' and 'Dreamland' in 2016. In 2017 the actress improved her acting talent in 'Beatriz at Dinner,' 'The Hunter's Prayer' and a TBA's movie 'A Kid Like Jake.'
Amy Landecker has also appeared on numerous television shows, such as 'Law & Order: Criminal Intent' in 2010, 'Louie' since 2010 to 2014, 'House' and 'The Protector' in 2011, 'Private Practice' and 'House of Lies' in 2012, 'Clear History' and 'Vegas' in 2013. Last year Amy starred as Debbie Schultz in 'People of Earth,' and had a Barbara Lake voiceover in 'Trollhunters.' Currently, she appears on 'Room 104' and continues her starring in 'Transparent.'
Religion information:
Amy hasn't talked much about her religion, so all we know is that her paternal grandfather has been Jewish and her maternal grandfather, Joseph N. Welch, was a son of English immigrants Martha (Thyer) and William Welch.
Political views:
Amy Landecker has never shown any open support for any of the two leading parties in the U.S., and the actress did not reveal about her political leaning in the media.
Dating profile:
Amy Landecker began dating Larry David, a writer after she appeared on an episode of the hit comedy 'Curb Your Enthusiasm.'
The star began dating her 'Transparent' co-star Bradley Whitford in 2015.
Also, Amy has an 11-year-old daughter.
Interesting facts:
The daughter of popular Chicago radio personality, Amy attended high school with Anne Heche.
Amy studied communications at the University of Wisconsin.
The actress is fond of spending time with her beloved ones, despite her busy schedule.
Amy did a voiceover for a television commercial, a Tampax ad, and earned her first $10,000.
The actress is a yoga fan and she often finds time for some outdoor activity.
Amy was Julia Roberts' voice double on 'Duplicity' trailer.
---
Sources list
https://www.famousbirthdays.com/people/amy-landecker.html
http://www.tvguide.com/celebrities/amy-landecker/bio/219731/
http://www.hollywood.com/celebrities/amy-landecker-57474357/
http://assassinscreed.wikia.com/wiki/Amy_Landecker