Amy Schumer born on June 1, 1981, Manhattan, New York City, to Sandra and Gordon Schumer, is an American stand-up comedian, writer, actress, and producer. She began her comedy career in 2003 when she appeared in an off-Broadway black comedy Keeping Abreast, though her stand-up comedy career gained notice after she performed at Gotham Comedy Club on June 2004. In 2007, she finished fourth on the fifth season of the NBC reality competition series Last Comic Standing after having unsuccessfully auditioned for the same previously. In 2008, she was a co-star in the Comedy Central reality show Reality Bites Back, and in 2009, she was part of the campaign for Butterfinger.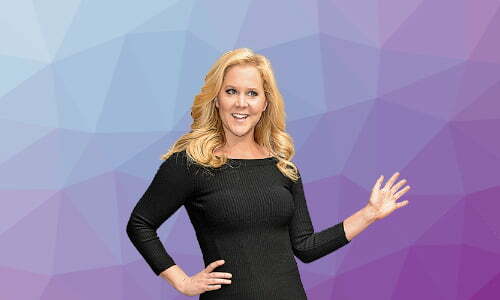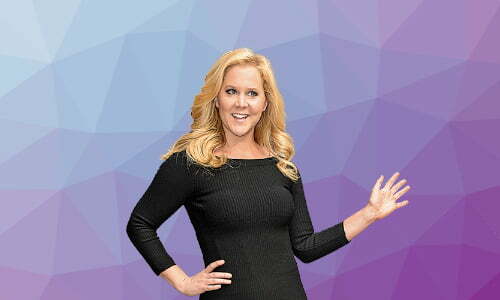 Beginning 2013, she has been the creator and star of the Comedy Central sketch comedy series Inside Amy Schumer. The series has won her Peabody Award and nominated for five Primetime Emmy Awards. In 2016, her comedy special Amy Schumer: Live at the Apollo was nominated for three Primetime Emmy Awards.
Schumer has acted in various films including, Sense Memory (2006), Sleepwalk with Me (2012), Price Check (2012), Seeking a Friend for the End of the World (2012). She also starred in various films, such as Trainwreck (2015), Snatched (2017), Thank You for Your Service (2007).
As a writer, she has written for Cosmopolitan magazine, and in 2016 she published a memoir, The Girl with the Lower Back Tattoo, which held the top position on The New York Times Non-Fiction Best Seller list for two weeks.
Time magazine named her in the list of 100 most influential people in 2015, and in that same year Barbara Walter included her in the list of 10 Most Fascinating People. She is known to address social issues through comedy.
Religion Information
Schumer was raised Jewish. Her father was born Jewish while her mother, though from a Protestant background, converted to Judaism. She is not very religious and she has stated that as a child she experienced anti-Semitism.
Political Information
She is related to U.S. Senator Chuck Schumer , and after 2015 fatal shooting during Trainwreck show, in which two people died, she became outspoken in the fight for gun control.
She is a longtime fan of Hilary Clinton.
Dating Information
Schumer was in a relationship with Chicago furniture designer Ben Hanisch from January 2016, though they ended it in May 2017.
She has dated professional wrestler Nick Nemeth, and comedian Anthony Jeselnik.
Hobbies
Schumer is a fun and enjoys horseback riding. She has clearly said that she loves to eat healthily and workout. And obviously, she does love stand-up comic, writing and directing.
Beliefs on Gay Marriages
Schumer supports gay marriage and she was in an advert released by Bud Light celebrating same-sex marriage in 2016.
Interesting Facts
She is fluent and can communicate using sign language.
She was voted "Class Clown" and "Teacher's Worst Nightmare" while in high school.
Since childhood days, they have been friends with Taking Back Sunday drummer Mark O'Connell.
Her parents owned a baby-furniture company.
At the age of 9, her family went bankrupt.
At the age of 12, her father was diagnosed with multiple sclerosis.
---
Sources
https://en.wikipedia.org/wiki/Amy_Schumer
https://en.wikipedia.org/wiki/2015_Lafayette_shooting
http://www.imdb.com/name/nm2154960/?ref_=nv_sr_1
http://www.pinknews.co.uk/2016/06/02/amy-schumer-and-seth-rogen-celebrate-at-gay-wedding-in-new-bud-light-advert/