Andrew Clement Serkis was born on 20th April 1964 in Ruislip Manor in Middlesex. He is an English film actor and director. He is best known for his performance capture roles comprising motion capture acting, animation and voice work for such computer-generated characters as Gollum in The Lord of the Rings film trilogy and The Hobbit: An Unexpected Journey, King Kong in the eponymous 2005 film, Caesar in the Planet of the Apes reboot series, Captain Haddock / Sir Francis Haddock in Steven Spielberg's The Adventures of Tintin , and Supreme Leader Snoke in Star Wars: Episode VII – The Force Awakens and Star Wars: Episode VIII – The Last Jedi. Upcoming performance capture role includes being cast as Baloo in Mowgli which will be released in 2018.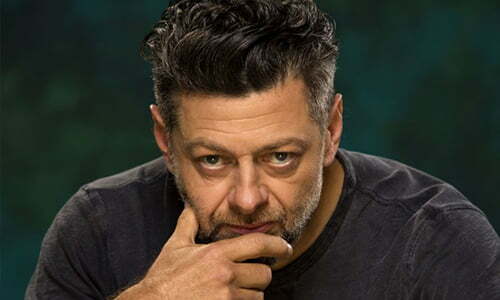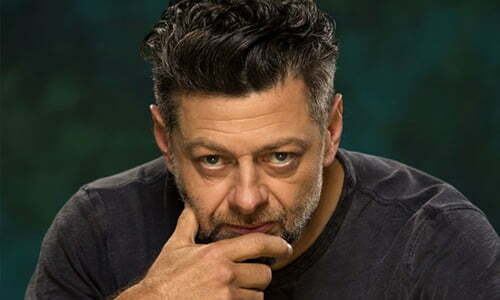 In 2015, Serkis began playing Ulysses Klaue in the Marvel Cinematic Universe, beginning with Avengers: Age of Ultron, which will be followed by Black Panther (2018).As a director, Serkis has served as the second unit director for The Hobbit films and made his directorial debut with Breathe. He will also be directing the upcoming 2018 film, Mowgli.
Awards and Achievements:
Andy Serkis film work in motion capture has been critically acclaimed. At the 2003 Saturn Awards, he won the Best Supporting Actor Award for 'The Lord of the Rings: The Two Towers' and won the same award in 2012 for 'Rise of the Planet of the Apes'.
At the 2004 Screen Actors Guild Awards, he, along with the cast of 'The Lord of the Rings: The Return of the King', won the award for Outstanding Performance by a Cast in a Motion Picture. At the 2010 Evening Standard British Film Award, Andy Serkis received the Best Actor Award for 'Sex & Drugs & Rock & Roll'. In 2015, he won the Best Actor Award for 'Dawn of the Planet of the Apes' at Empire Awards.
Dating Profile:
In July 2002, Andy Serkis married actress Lorraine Ashbourne. The couple has three children – Ruby who was born in 1998, Sonny who was born in 2000 and Louis who was born in 2004. They live in Crouch End, north London.
Religion Information:
Andrew Serkis was born to Catholic parents, and though he has been an atheist since his teenage years, he is "drawn to the karmic possibilities of energy transference", specifically "the idea that your energy lives on after you". He studied visual arts and theatre as part of his degree at Lancaster University and graduated in 1985.
Political Views:
Andy Serkis tends to stay outside of the political world as he hasn't shared any of his political views and opinions lately.
Interesting Facts:
He supports and is associated with charities like PETA and White Knot for Equality, which supports the LGBT community.
Andrew has written a memoir 'Gollum: How We Made Movie Magic', depicting his experiences about bringing Gollum to life on the big screen.
At the request of comedian Stephen Colbert on an episode of CBS's "The Late Show", Actor Andy Serkis read some of Trump's "fake news media" tweets in the voice of Gollum.
Serkis has his own production company and motion capture workshop, The Imaginarium Studios in London, which he used for Jungle Book
Net Worth: $28 Million as Of Aug 27, 2017
---
Sources
https://en.wikipedia.org/wiki/Andy_Serkis
https://www.thefamouspeople.com/profiles/andy-serkis-10299.php
http://www.washingtonexaminer.com/andy-serkis-reads-trump-tweets-as-gollum-from-lord-of-the-rings-watch/article/2628394