Angelina Jolie born on June 4, 1975, in Los Angeles, California, is an American actress and one of the highest paid Hollywood actresses of the 21st century. An Oscar-winning actress and a humanitarian, her career began at an early age when she acted alongside her father in Lookin' to Get Out (1982). Her breakthrough came when she played a title role of Lara Croft in Lara Croft: Tomb Raider (2001) and later on starring in Mr. & Mrs. Smith (2005), Wanted (2008), and Salt (2010).
Jolie is actively involved in charity work, most notably an interest in environmental conservation, education, and women's rights.
She is regarded as one of the most influential personalities in Hollywood scene and often appeared in the list of the "most beautiful woman". Her personal life, especially high-profile marriage with Brad Pitt, has been widely targeted and covered by the press.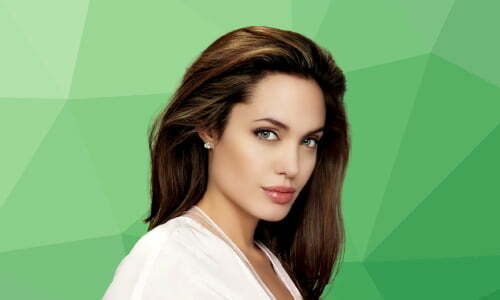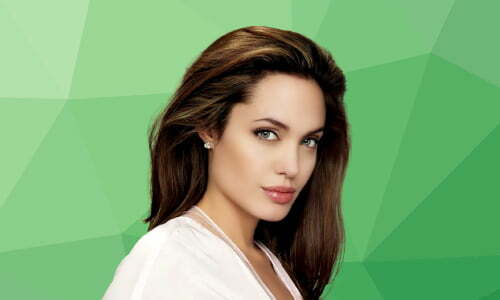 Religion Information
Angelina Jolie was brought up a Catholic but she is not a follower of any particular religion and she has never publicly mentioned any specific religious beliefs.
However, due to her son's (Maddox) Cambodian heritage, Jolie is more inclined to Buddhism as opposed to any other religion. In fact, she has a Buddhist-written tattoo prayer for her son on her upper back. When asked if there's God, she gave the following answer "…For some people. I hope so, for them. For the people who believe in it, I hope so. There doesn't need to be a God for me. There's something in people that's spiritual, that's godlike. I don't feel like doing things just because people say things, but I also don't really know if it's better to just not believe in anything, either."
Political Views
Jolie is neither a democrat nor a republican. In 2008, she had this to say about her political standing;
 "I think people assume I'm a Democrat. But I'm registered independent, and I'm still undecided. So I'm looking at McCain as well as Obama"
Other than being non-partisan in U.S politics, she is a Goodwill Ambassador for the U.N.
Dating Profile
She met British actor Jonny Lee Miller while filming Hackers (1995), and they married in 1996. Their marriage ended in 1997 while their divorce was finalized in 1999.
She was romantically involved with model-actress Jenny Shimizu and when asked if she was bisexual, she said, "Of course. If I fell in love with a woman tomorrow, would I feel that it's okay to want to kiss and touch her? If I fell in love with her? Absolutely! Yes!" 
On May 5, 2000, Jolie married actor Billy Bob Thornto but after three months they separated. Together, they had adopted a Cambodian child.
While filming Mr. & Mrs. Smith (2005), her affair with co-star Brad Pitt was highly publicized, though she dismissed the allegations, both were numerous seen in public as a couple. Later in May 2006, Jolie gave birth to their daughter and they also adopted a Vietnamese boy. Jolie and Pitt married in 2014 and in 2016 she filled for a divorce.
Interesting facts about Angelina Jolie
She has 14 tattoos
She is left-handed
The first pictures of her twins with Pitt were sold for $14 million
She pursued craft at the age of 11
She has six children, three of whom are adopted
She aspired to be a funeral director during her childhood.
Sources:
https://en.wikipedia.org/wiki/Angelina_Jolie
http://www.imdb.com/name/nm0001401/bio?ref_=nm_ov_bio_sm
http://www.religionfacts.com/angelina-jolie
https://hollowverse.com/angelina-jolie/#footnote_3_279
http://www.twcc.com/entertainment/galleries/celebrity/angelina-jolie