Blake Shelton was born in Oklahoma, U.S.A on June 18, 1976. He is an American singer-songwriter, actor, and television personality. Many will fondly remember him for his as a judge in the singing competition, THE VOICE.
Shelton is also known for his role as a judge on the televised singing competitions Nashville Star, Clash of the Choirs apart from the earlier mentioned THE VOICE. He has been on The Voice since its inception, and in five of twelve seasons (2–4, 7, 11), a member of his team has won.
Shelton began singing at an early age and by age 12, he was taught how to play the guitar by his uncle. By age 15, he had written his first song. By age 16, he had received a Denbo Diamond Award in his home state.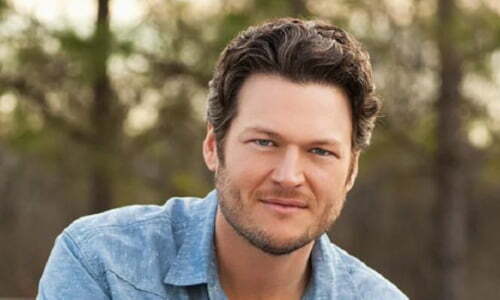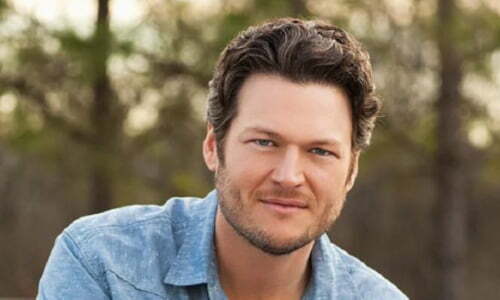 Immediately he graduated from high school, he started pursuing a career in singing.  He moved to Nashville, and there he got a job at a music publishing company and, in 1997, he was aided by Bobby Braddock to obtain a production contract with Sony Music
In 2001, he made his debut with the single "Austin". The lead-off single from his self-titled debut album, "Austin" spent five weeks at number one on the Billboard Hot Country Songs chart. The now Platinum-certified debut album also produced two more top 20 entries ("All Over Me" and "Ol' Red"). Although the album was released on Giant Records Nashville, he was transferred to Warner Bros. Records Nashville after Giant closed in late 2001.
He has about 7 studio albums to his name, and overall in the country charts, Blake Shelton has charted 33 singles, including 24 number ones, 17 of which were consecutive. The 11th No. 1 ("Doin' What She Likes") broke "the record for the most consecutive No. 1 singles in the Country Airplay chart's 24-year history". He is also an eight-time Grammy Award nominee.
Religion Information
Shelton is a Catholic. He often describes his love for God in his music.His new song Savior's Shadow is religious and he mentions Jesus thought the song. He claims that he got inspiration for this song in a dream.
Political Views
Blake has not publicly spoken about his political views, but he gave support for his close friend Kelly Clarkson, who was criticized by fans for her political views. He defended her and said she has the right to speak her mind and vote for a Democrat even if she is a Republican. Based on his religion and music, most suggest that he would be a Republican.
Dating Profile
Blake was married to Kaynette Gern, from 2003 to 2006, and Miranda Lambert from 2011 to 2015. He has started dating singer Gwen Stefani in November 2015, and as of 2017 are still together.
Hobbies
Blake Shelton loves spending time on his ranch in Oklahoma. Blake also really enjoys cooking, hunting, and fishing. He is a quiet person that prefers spending time with his family and friends on his ranch. He isn't a very big fan of clubs and large cities.
---
Sources