Bradley Charles Cooper was born on 5th January 1975, in Philadelphia. He is an American actor and producer and was one of the world's highest-paid actors for three years. He has been nominated for four Academy Awards, two BAFTA Awards, two Golden Globe Awards, and one Tony Award. In 2015, Cooper appeared on Time's list of 100 most influential people in the world and Forbes Celebrity 100 on two occasions.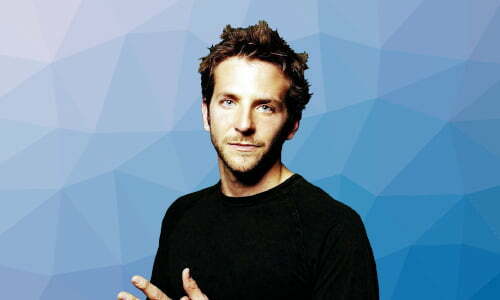 Cooper became famous from the movie "The Hangover" and has received Oscar nominations from 2013 to 2015 for his roles in "Silver Linings Playbook", "American Hustle", and "American Sniper".
Achievements:
Bradley Cooper is one of the ten actors to receive an Academy Award nomination for three consecutive years. He was nominated for Best Actor for Silver Linings Playbook and American Sniper, Best Supporting Actor for American Hustle and Best Picture for American Sniper between 2013 and 2015. Moreover, he has been nominated for two British Academy Film Awards: Best Actor in a Leading Role for Silver Linings Playbook and Best Actor in a Supporting Role in American Hustle, and two Golden Globe Awards: Best Actor – Motion Picture Musical or Comedy for Silver Linings Playbook and Best Supporting Actor – Motion Picture for American Hustle.
Bradley Cooper makes the Celebrity 100 for the second time this year thanks to his ability to balance popcorn cheese such as "Aloha" with Oscar-worthy fare including "American Sniper." Cooper produced and starred in the latter, which was directed by Clint Eastwood after Steven Spielberg passed on the military epic. The only hangover from the bro trilogy Cooper hit the big time with is his production company, which he runs with "Hangover" director Todd Phillips.
Dating Profile:
Bradley Cooper was married to actress Jennifer Esposito from 2006 to 2007. He has reportedly dated actresses Zoe Saldana, Renée Zellweger and model Suki Waterhouse. In 2015, Cooper started dating model Irina Shayk. In March 2017, the couple welcomed their daughter, Lea de Seine Shayk Cooper.
Religion Information:
Bradley Cooper was raised in a Catholic family from a young age. He became closer to God after a brief stint in rehab. He mentioned in an interview that he prays daily and that he didn't lose his virginity until he was 17.
Political Views:
Bradley Cooper is a Democrat who has donated money to other Democratic candidates. He signed a letter with a group of actors thanking Obama for his actions about gun control in 2016. Cooper has also donated money to the Hillary Clinton campaign when she was running for senator in 2000. In 2016 he attended the Democratic Convention which caused some confusion as some people assumed he was a Republican because of his role in American Sniper which was simply an acting role and in no way was a reflection of his beliefs.
Hobbies:
Bradley Cooper's hobbies include listening to music, reading and motorbike riding. He loves to play football and golf. He enjoys cooking too. He would like to cook for his friends when he was young and have them try new recipes he made. He even plays the role as a chef in the movie, "Burnt".
---
Sources
https://en.wikipedia.org/wiki/Bradley_Cooper
https://www.forbes.com/profile/bradley-cooper/
http://www.boomsbeat.com/articles/16383/20150205/50-interesting-facts-about-bradely-cooper-he-was-hooked-on-chewing-tobacco-loves-to-cook.htm