Christopher Michael Pratt was born on 21st June 1979 in Virginia, Minnesota, the youngest child of Kathleen Louise (née Indahl), who worked at a supermarket, and Daniel Clifton Pratt, who remodeled houses. He is an American actor and is best known for his role as Andy Dwyer in the NBC sitcom Parks and Recreation from 2009–2015, for which he received critical acclaim and was also nominated for the Critics' Choice Television Award for the Best Supporting Actor in a Comedy Series in 2013. In 2014, after starring in the computer-animated adventure comedy The Lego Movie and as Star-Lord in the Marvel Studios superhero film Guardians of the Galaxy, he attained the leading man status cause both of the films proved to be a commercial success.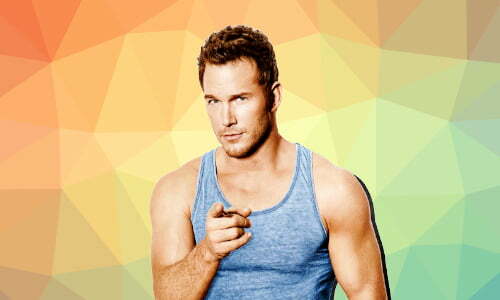 In 2015, he starred in Jurassic World, the fourth installment in the Jurassic Park franchise, which is his most financially successful film to date, earning $1.6 billion at the box office. Time also named Pratt one of the 100 most influential people in the world on the annual Time 100 list in 2015.
In The Magnificent Seven and Passengers, Chris Pratt has continued his leading man status. He also reprised his role as Star-Lord in Guardians of the Galaxy Vol. 2 and will play the character again in Avengers: Infinity War and its untitled sequel.
Religion Information:
Chris Pratt is a Christian and is quite open about it. When his preterm son was born, he said that it "restored my faith in God, not that it needed to be restored, but it defined it". Recently he received some heat for making comments about his faith. He was told to "Keep Jesus off the Set" when filming Jurassic World. He is a humble guy who isn't afraid to own up to his mistakes and will continue to worship God and attend church on Sundays when he can. He was raised Lutheran and later worked for Jews for Jesus, eventually becoming a non-denominational Christian.
Political Views:
Chris is a proud conservative and doesn't have a problem showing it. He loves the second amendment and believes that religion plays a vital role in our lives. Pratt is quite different than most Hollywood actors and actresses who tend to be more liberal.
Dating Profile:
Chris Pratt married the movie actress, Anna Faris. They met in 2007 while on the set of Take Me Home Tonight. They got engaged in late 2008 and married in Bali on July 9, 2009, eloping on a whim after a friend's wedding. They live in Hollywood Hills, California. Their son, Jack, was born in August 2012. On August 6, 2017, Pratt and Faris announced their legal separation.
Hobbies:
Chris is an outdoorsman who loves hunting and fishing. He also had a dead bug collection and enjoyed spending time with his son and working on cars when he gets a chance.
Interesting Facts:
In High School, Chris Pratt was a wrestler who made it to the State Championships and was placed 5th.
After Chris dropped out of community college, he became homeless in Hawaii. He lived and camped on the beaches.
Chris was quite popular in high school which was most likely due to his charisma. At one point he even sold coupons, which he probably excelled at due to his friendly and outgoing personality.
---
Sources
https://en.wikipedia.org/wiki/Chris_Pratt