Claire Danes is an American actress born on April 12, 1979. Danes attended Dalton School in New York, The Professional Performing Arts School, and Lycee Francais de Los Angeles. She later joined Yale University but dropped out to concentrate on her acting career.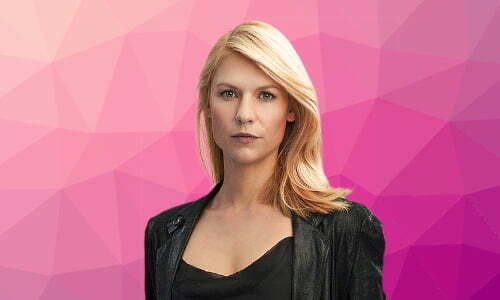 Claire Danes gained her first major attention with her role as Angela Chase in the teen drama My So-Called life (1994). The role won her Emmy nomination, Screen Actors Guild Award, and a Golden Globe award. She made her made her first film appearance, Little Women in the same year. Danes had a successful film career afterward as she appeared in films like Romeo + Juliet (1996), The Hours (2002), Terminator 3: Rise of the Machines (2003) and Stardust (2007).
In 2010, Danes appeared in HBO Production, Temple Gradin, playing the title character. Her performance in the film won her the second Golden Globe Award, the first Primetime Emmy Award, and Screen Actors Guild Awards. From 2011, she starred on Homeland, a SHOWTIME series, which has also won her two Primetime Emmy Awards and Two Golden Globe Awards.
Danes were named one of the 100 most influential people in the world by Time in 2012, and she received Hollywood Walk of Fame in 2015.
Religion information
Claire Danes doesn't seem to be religious. In fact, she has ever described her background as "touchy-feely new-age." Also, she's stated that mediation parties were common occurrences.
Political views
Danes have never expressed her political concerns, but she seems to side with Democrats. Actually, her famous role in Homeland has earned her meetings with Bill Clinton and Barack Obama, who were both Democrats. She has even described President Obama as excellent President. However, Claire has never given any financial contributions to any campaigns or political parties, including the Democrats.
Dating profile
Claire Danes met Ben Lee, an Australian singer in 1997 at her birthday party. Danes and Lee dated for almost six years before their relationship ended in 2003. She again began dating Billy Crudup in 2004, but the relationship lasted for only two years. Her relationship with Billy Crudup garnered a lot of negative press because he left Mary-Louise Parker, who was pregnant with his son.
In 2006, Danes met actor Hugh Dancy in Newport, Rhode Island. They began dating, and in February 2009 they announced their engagement. Danes and Hugh married in France in a secret wedding ceremony in 2009.
Interesting facts
Her father, Christopher Danes was a photographer and her mother, Carla Danes was a sculptor and printmaking artist.
Her parents met at the Rhode Island School of design.
She is named after her paternal grandmother who died in 1953.
Danes her first kiss on-screen during one of the episodes of My So-Called Life. 
Hobbies
Claire stated that she loves Halloween and creating costumes. While living in Berlin during the filming Homeland season five, she developed a lot of interest in techno music and dancing. She has even showcased her techno dancing skills when she appeared on the Ellen DeGeneres Show.
---
Sources list
http://www.boomsbeat.com/articles/21696/20150714/50-things-actress-claire-danes-came-prominence-role-angela-chase.htm
http://www.whosdatedwho.com/dating/claire-danes
https://hollowverse.com/claire-danes/
http://www.imdb.com/name/nm0000132/bio?ref_=nm_ov_bio_sm