Common, whose real name is Lonnie Rashid Lynn Jr. is an American hip-hop recording artist, poet, actor, and a film producer. He was born on March 13, 1972, in Chicago Illinois. Common released his first album, Can I Borrow a Dollar? In 1992 and maintained a significant underground after that. He then gained notable mainstream success in the late 90s through his work with the Soulquarians.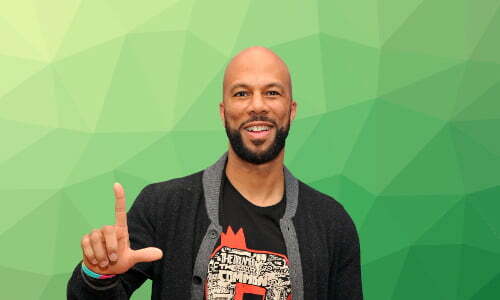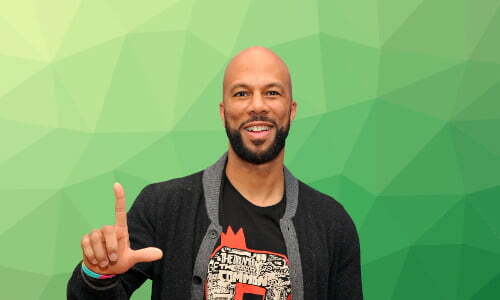 Common released his music under several music labels like GOOD Music, Relativity, and Geffen amongst others but he finally launched his recording label, Think Common Entertainment in 2011.
He won his first Grammy Award in 2003 for his R&B song Love of My Life with Erykah Badu. The popularity of the song matched by Be, which he released in May 2005. The song nominated for Best Rap Album for the 2006 Grammy Award. Common received his second Grammy Award for Best Rap Performance by Duo or Group, Southside, which featured Kanye West. On November 27, 2007, Common released his best-of album; This is Me Then: The Best of Common.
In 2015, Common won the Academy Award for the Best Original song and Golden Globe Award for Best Original Song for his song, Glory, from the film Selma (2014), in which he co-starred as James Bevel, a Civil Rights Movement leader. Common has also played significant roles movies like Happy Feet, Date Night, Smoking Aces, American Gangster, Terminator Salvation, Wanted, Being Charlie, Run All Night and John Wick: Chapter 2.
Common has also narrated Bouncing Cats, an award-winning documentary, about one man's determination to improve the lives of children in Uganda through hip-hop music. The rapper starred as Elam Ferguson on TV series Hell on Wheels.
Religion information
During an interview with afro.com, Common said that he's a Christian, he believes in God, and Lonnie has been a member of Trinity United Church of Christ since he was 8. Furthermore, he stated that he believed in the existence of God, and respects anyone who believes in a higher being.
Political views
Common is a big supporter of Obama, and he has even been invited to perform at the White House during his presidency. However, the invitation considered to be controversial and many people were outraged by Common's invitation to the White House.
Dating profile
The rapper has had romantic relationships with Erykah Badu, Taraji P. Henson, Kerry Washington and Serena Williams. However, Common maintains that he has been single since July 2014.
Interesting facts
He has a daughter.
Before acting, Common came into limelight as one of the most poetic and respected hip-hop lyricists.
Common has recorded over eight albums and has won several Grammy Awards.
He has been invited to speak as a guest speaker in most of the universities across the United States.
The rapper is part of the Knowing Is Beautiful movement which promotes HIV/AIDS awareness.
He used to be a vegan, but now he is a pescetarian.
Hobbies
Common loves acting and inspiring people. In fact, he said that he would be a teacher if he weren't a musician. He also enjoys helping people.
---
Sources list
http://www.boomsbeat.com/articles/22130/20150826/50-things-common-emerged-one-hollywoods-sought-leading-men.htm
http://www.whosdatedwho.com/dating/common
https://en.wikipedia.org/wiki/Common_(rapper)#Personal_life