Kate Garry Hudson was born on 19th April 1979 in Los Angeles, California. She is an American actress who rose to prominence in 2000 for playing Penny Lane in Almost Famous. She won a Golden Globe for that role and was also nominated for an Academy Award for Best Supporting Actress. Kate is also known for her role in How to Lose a Guy in 10 Days, Raising Helen, The Skeleton Key, You, Me and Dupree, Fool's Gold, Bride Wars, Nine, and Deepwater Horizon. Kate Hudson also co-founded Fabletics which is a fitness brand and membership program operated by JustFab.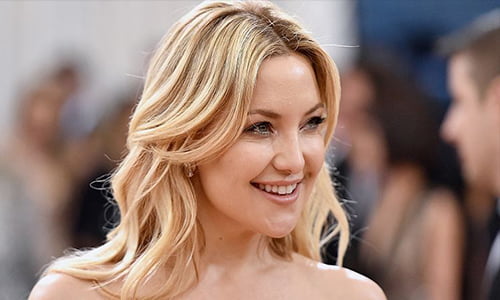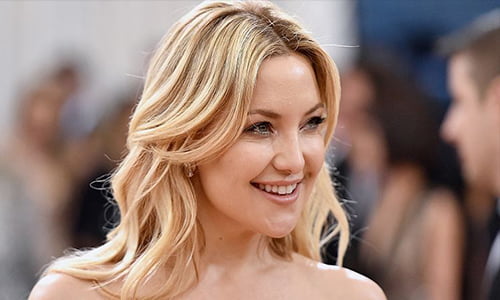 Dating Profile:
Kate Hudson has dated several actors including Matt LeBlanc and Dax Shepard, director Eli Craig, musician Shannon Leto, hockey player Eric Lindros, cyclist Lance Armstrong, baseball player Alex Rodríguez, photographer Darren Ankenman, dancer Derek Hough, and singer Nick Jonas.
On December 31, 2000, she married Chris Robinson, the frontman for The Black Crowes, in Aspen, Colorado. The couple has a son named Ryder Russell Robinson who was born on 7th January 2004. Their divorce was finalized on October 22, 2007, with Hudson being granted joint custody of Ryder.
In early 2010, Hudson started a relationship with the Muse frontman Matt Bellamy. The got engaged in April 2011. Together, they have a son named Bingham Hawn Bellamy who was born on 9th July 2011. On December 9, 2014, the couple announced that they had ended their engagement. However, Hudson and Bellamy are on good terms with one another, successfully co-parenting their son. Currently, Kate is dating Danny Fujikawa since 2016.
Religion Information:
Kate Hudson was raised Jewish but like her mother, she also practices Buddhism. Therefore, she considers herself both Jewish and Buddhist, or "Jewbu" if you will. Her Jewish roots are confined to her maternal grandmother's lineage. She considers herself Jewish in identity and Buddhist in practice.
Political Views:
Kate Hudson is a Democrat. Although, she doesn't talk about her political views a lot her campaign finance contribution report confirms that she is a Democrat. She has only made two contributions, both to blue candidates which indicates that she is a Democrat.
Interesting Facts:
Kate Hudson was named one of the '50 Most Beautiful People in the World' by People Magazine in 2000.
She turned down the part of Peter Parker's girlfriend Mary Jane Watson in Spider-Man (2002) for the role of Ethne Eustace in The Four Feathers (2002).
Hudson enjoys playing guitar, writing music, and arts & crafts
She is left-handed.
Hudson has 3 dogs: Clara (a Pomeranian), Doctor (an English bulldog), and Bella (a Neapolitan Mastiff)
She buys her clothes from vintage clothing shops and makes her own jewelry
In 2016, Hudson released her book, Pretty Happy: Healthy Ways to Love Your Body.
Famous Quotes:
"Only in failure do you reach success. You can only get to the good stuff when you've done the hard stuff."

"I want my sons to respect women, and that starts with me. If a man respects his mom, you know she's done something right."

"We all have to find what works best for us and allows us to be our own best version of ourselves."
---
Sources:
http://www.imdb.com/name/nm0005028/bio
https://hollowverse.com/kate-hudson/