Matt Damon is a well-known American actor whose official name is Matthew Paige Damon. If you check his skills-list, you will find that he is not just an actor, but also a successful film producer, screenwriter and even a philanthropist.  He also does voice overs.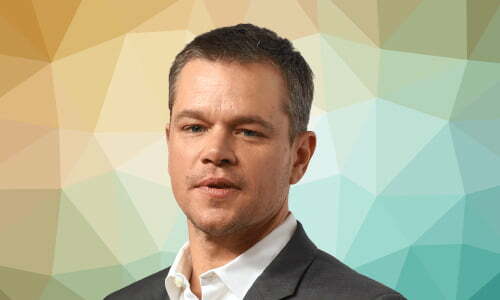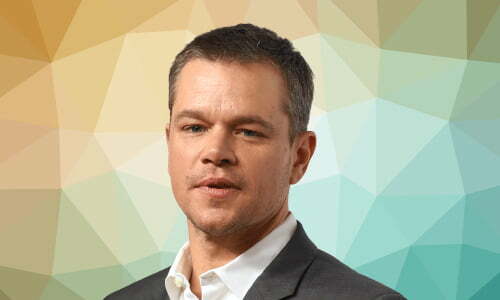 Born and raised in Massachusetts, USA, Matt Damon realized his taste for acting and decided to begin his acting career. He took part in high school theatre productions and through this he made his debut in the film Mystic Pizza(1988).
He earned his fame and became prominent in the year of 1997, for writing and also starring in the movie Good Will Hunting, with Ben Affleck as his co-star. Matt Damon received the Best Screenplay award with nominations in the Golden Globe and Academy Award.
And with this sensational hit, he only seemed to rise up. He is best known as Jason Bourne in the blockbuster hit Bourne Franchise (2002-16). He played a con-man in the Ocean's Trilogy, which also added up to his fame.
SUCCESSFUL MOVIES
Good Will Hunting   ($138,433,435)
Saving Private Ryan ($216,540,909)
Contagion                ($75,658,097)
Jason Bourne           ($162,434,410)
The Martian             ($228,433,663)
Ocean's Eleven        ($183,417,150)
And he assures that there are much more to come.
MATT DAMON'S HOBBIES AND INTERESTS
Once he was asked in an interview, "your favorite cuisine?" To which his reply was "Pizza". He every now and then engages himself in a ball game as baseball is his favorite sport and Boston Red Sox is his favorite team.
But most importantly he spends most of his time with his family. Music, philanthropy and acting are all secondary to him. Modest man he is, indeed.
MATT DAMON'S RELIGION AND BELIEFS
Being one of the biggest supporters of promoting the wellness of the environment, he is often seen taking part in such activities that are directed on saving the earth and its surroundings.
He is an active member in ONEXONE that supports and improves the lives of struggling children in Canada, USA and around the world.
POLITICAL VIEWS
He is a downright Democrat. He has never been shy of sharing his political views and ideas and even opinions. He is a Hillary Clinton supporter and engages himself in public policy opinion sharing, now and then. He has even disclosed his strong disagreements to the ex Prez, Barack Obama's certain decisions.
DATING PROFILE
He is happily married to Luciana Barroso and has four beautiful daughters with her. So, don't get your hopes up. Yet, he still remains to be the sensational heartthrob for the ladies.
INTERESTING FACTS
Matt Damon dropped out of Harvard University for pursuing his acting career and took part in high school theatre productions. Ben Affleck is one of his many good friends AND he is also his schoolmate.
One astonishing fact about Matt and Ben Affleck is that before they became successful actors through debuting in the Good Will Hunting, they were so broke that they had to share joint accounts. The movie Good Will Hunting, is inspired by Matt Damon's father's life, who used to work as a janitor in the Harvard University.
---
SOURCES
http://www.imdb.com/name/nm0000354/bio