Paul Stephen Rudd is an American actor, who today, is best known for his iconic role as Scott Lang the AntMan, in the Marvel Cinematic Universe. He was born in April 1969, and he studied theatre at the American Drama Academy and the University of Kansas.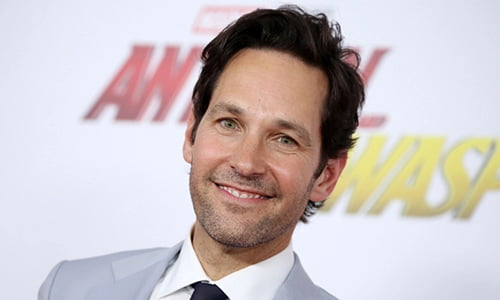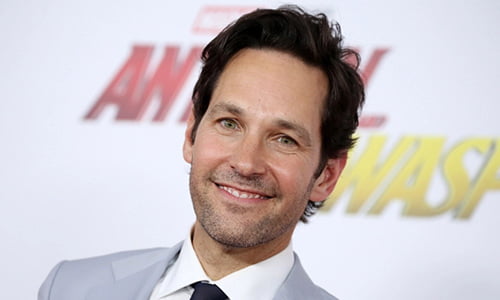 He made his debut in acting in a Sisters, an NBC series. He has also starred in several films, such as Clueless, Romeo + Juliet alongside Leonardo Di Caprio, Wet Hot American Summer, Anchorman: The Legend of Ron Burgundy and many others. In 2015, he landed the role of Scott Lang/Ant-Man in the Marvel Cinematic Universe (MCU). Since then, he had appeared in four MCU movies: Ant-Man (2015), Captain America: Civil War (2016), Ant-Man and the Wasp(2018), and Avengers: Endgame (2019).His father, Michael Rudd, who died in 2018, was a historical tour guide, and his mother, Gloria Irene, was a sales manager at a TV station. He also starred in quite a good number of TV shows. Before he joined the entertainment industry, he did several odd jobs to earn a living, such as ham glazing in a park.
Achievements
Paul Rudd has won 4 awards out of 16 nominations. They were:
AFI Award TV programme of the year
Male Star of the Year for his role in AntMan
Best Guest Performer in a Comedy Series, in Parks and Recreation
Best Performance by an Ensemble in The Perks of being a Wallflower
He got his own star on the Hollywood Walk of Fame in 2015.
Religion
He is a Jew and he claims his religious upbringing was a laid back one. He considers religion to be more a thing of heritage than faith. He is a Reform Jew.
Politics
Paul Rudd albeit being politically inactive, is very liberal, especially as concerns gun control and gay rights.
Dating profile
Mr Rudd got married to Julie Yeager in 2003. Concerning his past love life or relationships, nothing is known about that as he keeps that particular aspect and period of his life to himself. With his wife, he's had two children: Jack Sullivan Rudd and Darby Rudd.
Interesting facts
His parents are both British, as they were born in the United Kingdom.
His parents are Jews who descended from Jewish immigrants from Russia and Poland.
Paul Rudd worked as a Bar Mitzvah DJ while attending film school.
He acted like a fan boy the day he met Barack Obama.
Hobbies
According to him, he has two hobbies:
Watching Marvel movies
And forcing his friends and family to watch Marvel movies.
Famous Quotes
Humour, according to him, is the most important thing in life.
He likes the mystery of not knowing what he will be doing tomorrow, today.
He sucks at small talk.
Keywords: actor, Hollywood, producer; film, Marvel, comedy, Jew, liberal, gun control,
Sources list:
https://hollowverse.com/paul-rudd/
https://twitter.com/philsadelphia
https://en.wikipedia.org/wiki/Paul_Rudd
https://marriedbiography.com/paul-rudd-biography/
https://www.uselessdaily.com/movies/paul-rudd-trivia-18-interesting-facts-about-the-actor/#.XMBr7_Zoe00