Ryan Seacrest is an American radio personality, a hit television series' host, and a producer.  He is best known for his appearance as a host in the famous talent show, American Idol. American Idol was not his first successful job, and indeed, he did not start with that. Before that, he hosted a top-rated radio show in Los Angeles. He became pretty prominent for co-hosting in morning radio, On Air With Ryan Seacrest. He also began co-hosting the programme, Live With Kelly And Ryan, on a daily basis since May 1, 2017.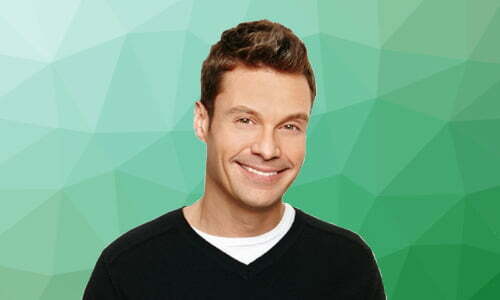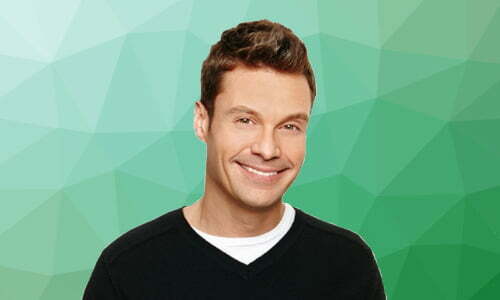 He received Emmy Award nominations for his work on American Idol and won an Emmy for producing Jamie Oliver's Food Revolution.
Around the same time, he hosted a new television show, Seacrest also began hosting the weekly radio staple American Top 40. Hosting it also boosted up his personality, and his name became prominent in many a home.
He has also appeared in movies, including New Year's Eve, Get Smart and Knocked Up. He voiced a character in the movie Shrek Forever After.
RYAN SEACREST'S HOBBIES AND INTERESTS
When he was a child, he loved listening to the radio. He always had a microphone with him, and his parents thought that it was just a hobby. Little did they know that he would be amongst the most famous people.
PERSONAL LIFE
Seacrest was dating a professional dancer, actress and singer, Julianne Hough. She was best known for her performance in Dancing With The Stars. But unfortunately, the couple split after dating for two years.
In 2016, Seacrest received a degree for an honorary Doctor of Humane Letters degree.
RELIGIOUS VIEWS
Ryan Seacrest follows Christianity. Born on December 4th, he often forgoes his birthday celebration to enjoy Christmas with his dear ones.
POLITICAL VIEWS
He tries to remain neutral when it comes to politics. But not so long ago, Ryan Seacrest sounded like he had to share some of his political views, and he almost got political in a live radio show with Joe Biden.
PHILANTHROPY
He is also the head at a non-profit charitable organization, Ryan Seacrest Foundation. In the year 2012, April, he named Selena Gomez as the brand ambassador of the foundation.
INTERESTING FACTS
Seacrest remained inside his home a lot when he was a kid. Other kids taunted him as he was a little overweight. This made him find interest in listening to radio. He used to record tapes for his parents to hear when they drove their cars. And people loved leaving messages on his family's answering machine, just to hear his voice!
It was recently revealed that Supernatural star, Jensen Ackles and Ryan Seacrest used to be roommates when Ryan was hosting the live radio show.
In his school, he was elected as the voice of Dunwoody High School. This changed the perspective of his family members, and it led him to pursue his talent as his career.
---
SOURCES
https://en.wikipedia.org/wiki/Ryan_Seacrest
http://www.encyclopedia.com/people/literature-and-arts/music-popular-and-jazz-biographies/ryan-seacrest