Willow Smith is an American singer, dancer, and actress. She is Will Smith and Jada Pinkett Smith's youngest daughter. Jaden Smith and Willard Carroll "Trey" Smith III are her two older brothers. Smith made her debut in acting in the year 2007 in the film I Am Legend with her very own father, and later appeared in Kit Kittredge: An American Girl with Abigail Breslin as her co-star. She earned a Young Artist Award for her stellar performance.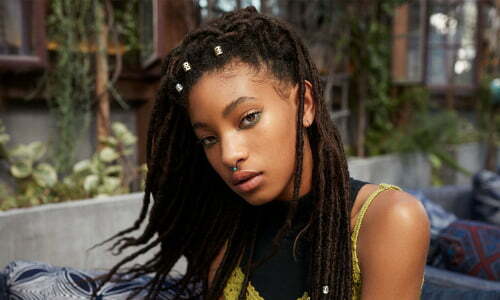 Smith started her music career in the year of 2010 with the release of the singles "Whip My Hair" and "21st Century Girl". Jay-Z is her mentor, and she signed the label for Roc Nation, becoming the youngest ever to do so.
Willow Smith Personal Life
Smith was born October 31, 2000, in Los Angeles. She is Will Smith and Jada Pinkett Smith's youngest and sweetest daughter. She is the younger sibling of her two elder brothers, actor/DJ, Trey Smith and actor-musician, Jaden Smith. Smith and her brothers are youth ambassadors for Project Zambia, which, in conjunction with Hasbro, provides assistance for Zambian children who are orphaned by AIDS.
Willow Smith Religion
Willow's religion could probably be anything to be direct. Her parents have been speculated to be Scientologists, but they keenly denied it. It is certain that her parents will not force any belief system on her. Her mother, Jada Smith, was spotted saying that she made a promise to herself that her baby girl will be given the power to know that her very own body, mind and her spirit are her domain, and hers only.
Willow Smith Political Views
Since Willow is still a teenager, and cannot vote for the campaign in 2018, her political views don't matter, that is if they even exist.
But what we do know is that her father, Will Smith is an avid Democrat and a huge supporter of Obama, we probably have a little Democrat in the club.
Willow Smith Fun Facts!
You've probably taken a glance at Willow's cutting-edge style, and while you might think that this is the work of incredible fashion-forward stylists, she claims that she desires to look different from the rest and that it all started at home
"I used to like dresses and tights, but when I turned nine, my style changed. My mom helps me pick out my clothes, but my brother [Jaden] always says: Willow, sag your pants!"
She even dons a Mohawk, which is probably her most famous look.
---
Sources
https://hollowverse.com/willow-smith/
https://en.wikipedia.org/wiki/Willow_Smith
http://www.independent.co.uk/arts-entertainment/music/news/willow-smith-interview-fame-album-the-1st-jaden-albums-syre-will-jada-pinkett-a8077711.html